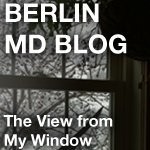 On Friday, October 12th, during dinner, I received a somewhat panicked telephone call from a multi-year vendor of the Berlin Farmers' Market telling me of a letter she had received from the Berlin Chamber of Commerce stating that the Market would be forced to vacate their present location in about 30 days.  Apparently, long-standing, downtown […]...
READ POST.
Older Posts

Sign up for Email Alerts and receive Blog Updates in your inbox.

Seashells of the Eastern Shore
- Seashell collecting is a...
more
Introducing...ShoreBilly's Swill
- ...
more
Home for the Holidays
- While we complain about bad...
more
Outside my Window
- I don't care if it is foggy...
more
Outside my Window
- Good glorious morning! ...
more
Nautical and Wildlife Art Festival & North American Craft Show
- January 15 & 16, 2011: The...
more
Outside my Window
- I think winter sunsets are...
more
Outside my Window
- Brrrrrrrrrrrrrrrr...
more
99 post but the bitch ain't one
- This could be the sympathetic...
more
2011 Movie Sequels
- 2011 Movie SequelsOk, I am a...
more