Ocean City MD Bloggers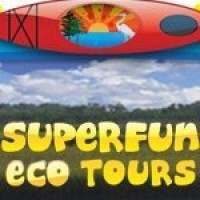 Super Fun Eco Tours
SuperFun leads unique, eco-concious kayak tours at Assateague Island National Seashore. Assateague is a 37 mile uninhabited barrier island along the eastern shore of Maryland and Virginia, just ten minutes south of Ocean City, MD. Wildlife on Assateague is abundant. SuperFun's guided kayak tours often see wild horses, sika deer, amazing birds and a plethora of marine life. SuperFun Guides are knowledgeable, highly trained and passionate about Assateague Island. Explore and discover Assateague's thriving ecosystem on our Wildlife Discovery Tour, or relax with friends on our Delicious Delmarva Sunset Experience. SuperFun also provides kayak rentals so you can make your own discoveries. We take reservations for kayak rentals.
Visit Blog
Back to Bloggers

Sign up for Email Alerts and receive Blog Updates in your inbox.

Seashells of the Eastern Shore
- Seashell collecting is a...
more
Introducing...ShoreBilly's Swill
- ...
more
Home for the Holidays
- While we complain about bad...
more
Outside my Window
- I don't care if it is foggy...
more
Outside my Window
- Good glorious morning! ...
more
Nautical and Wildlife Art Festival & North American Craft Show
- January 15 & 16, 2011: The...
more
Outside my Window
- I think winter sunsets are...
more
Outside my Window
- Brrrrrrrrrrrrrrrr...
more
99 post but the bitch ain't one
- This could be the sympathetic...
more
2011 Movie Sequels
- 2011 Movie SequelsOk, I am a...
more